Cookie, Pudding and their kid sister Candy are forever ready to jump into action with endless enthusiasm and energy. Their imagination also knows no bounds, and these kitties are capable of the most absurdly funny problem-solving suggestions. Through life's little lessons, they learn to look before they leap – well sometimes!
Why we like it:
The love child of the best UK writers and Russian animators, Kid-E-Cats makes you feel smart and good from laughing. It also delivers messages on two levels: for parents "let your kids learn by themselves" and to the kids "learn to think before acting".
Share this program: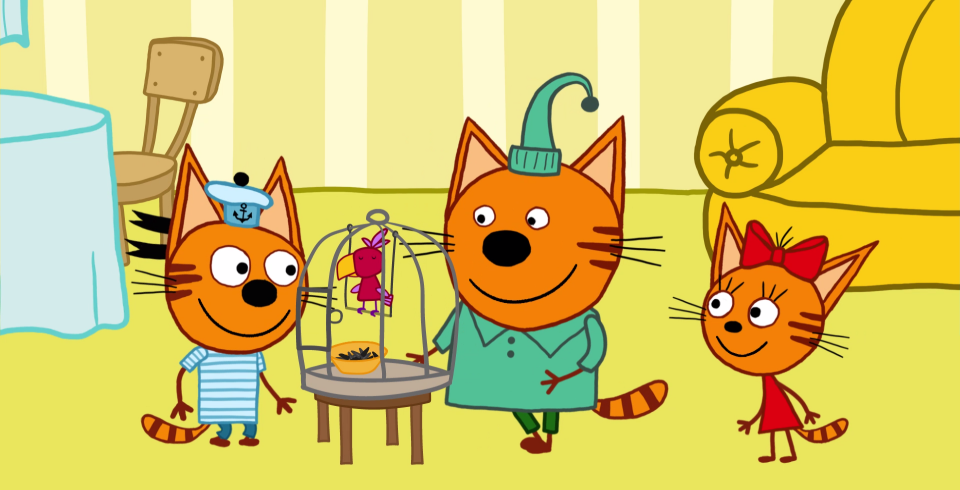 Program information:
156×5′ / 2017-2019 / HD / Worldwide TV & CP Rights (except Russia, CIS and China)
Genre:

2D HD Animated Series

Preschool

Available languages:

English, Russian, LatAm Spanish, Castilian Spanish, German, French, Italian, Portuguese, Brazilian Portuguese, Dutch, Danish, Swedish, Finnish, Norwegian, Polish, Greek, Hungarian, Romanian, Bulgarian, Croatian, Serbian, Turkish, Arabic, Malay, Indonesian, Mandarin, Thai.

Executive Producers:

Artem Vassiliev, Nigel Pickard (APC)

Story editor:

Ceri Barnes (Floogals, Casper's Scare School, Postman Pat)

Broadcaster:

CTC, Carousel (Russia)

Nick Jr. (170+ countries and territories)

Cartoonito (Italy)

Knowledge Network (Canada)

HBO (Spain, CEE, Balkans)

Super3 (TV3, Spain)

TG4 (Ireland)

Yle Fem (Finland)

Puls 2 (Poland)

TV3 (Latvia)

TV8 (Lithuania)

ETV2 (Estonia)

MTVA (Hungary)

Netflix (Germany, Switzerland, Austria, Central and Eastern Europe, Russia, Italy Australia)

MBC (MENA)

MENART ( Balkans)

Sky (UK & Ireland)

Ceska Televize (Czech Republic)

Global Master Toy:

Toy Plus

Licensing Agents::

Boing: Italy.

Eximtrading Argentina: Argentina, Uruguay & Paraguay.

License Connection: Benelux.

Active Merchandising: GSA.

AMV Licensing: Peru, Ecuador, Bolivia.

Asiana Licensing: South Korea

Empire Multimedia: Philippines, Singapore, Malaysia, Indonesia, Thailand, Vietnam.

Enjoy Brand Licensing: Iberia.

European Licensing Company: CEE.

Exim Representaciones Mexico: Mexico & Chile.

Mon Entertainment: Central America & Caribbean.